By Mike Lee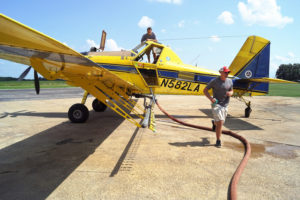 Most young men go through high school with one of two goals in mind after graduation; to further their education in college or to start a career.  Occasionally though, a teenager does both and Waylon Greer of Independence, Mississippi is one such man.
Excelling both scholastically and athletically, Greer graduated Independence High School in 2014 with a clear vision of what he wanted to be in life and how to achieve it.
"I enrolled at Northwest Community College in Senatobia  intent on being a nurse," he remembered.  But an opportunity to go flying presented itself and he took to flying as though it was part of him; a natural at the controls.
Greer looked into the various career opportunities available to him as a pilot and the  one that stood out was ag pilot, aka: "crop duster."  So he began an internet search for schools and found one of the best, Flying Tiger Aviation in Monroe, Louisiana. Greer  applied and was accepted.
He skillful mastery of the airplane was obvious to the flight instructors as Greer excelled over all other students in his class, so much so that upon gaining his commercial single engine type rating, Greer was appointed instructor at the school.  "To date, I have taught 20 students and have over 500 hours (flight time)," he grinned.  That smile is a hint however and is also a reflection of the change that was to unfold in his young life.
In February, 2017 Greer got an invitation from chief pilot Kevin Jones of Tunica Air Inc., in Tunica.  "Kevin knew of
my involvement at Flying Tiger through his friendship with my dad, so he asked me to come (to Tunica Air Inc.) and look things over," he recalled.  Greer did so and liked the operation.  "Right away, I noticed it was a nice sized business," he nodded, "and we talked.  I realized it was just what I was looking for; a job that would get me totally involved in what I wanted to be and what I wanted to do," Greer said.
Tunica Air Inc. is a well established aerial application company in the northwest Mississippi Delta that recently changed hands from long-time owner Shawney Sharp, to three local farmer/investors—brothers Patrick and Michael Johnson, and Buddy Allen—who had utilized the services of Tunica Air Inc. for years and knew the value of the business.
"The owners understood the economics of aerial spraying," Greer said, "that though some farmers now own tractor-based sprayers, still aerial application is more economical. A ground sprayer has a 150 foot spread and our planes have only a 70 foot reach. But the aircraft can cover the same acreage in a fraction of the time and consequently at a cost savings," Greer explained.
Greer's visit to Tunica Air Inc. paid off.  Chief pilot Kevin Jones liked him, knew of his record at Flying Tiger Aviation and offered him a job that afternoon.  "I couldn't believe I got an offer so quickly.  It's been just a few months since I started and I'm working at the lowest rung of the ladder, which is exactly where I want to be," Greer explained, "because I have a lot to learn.  But that's what I do best.  I pick up on things real quick," he boasted.  And Jones has virtually become Greer's mentor, teaching him and testing him on every aspect of the job.
Tunica Air Inc.'s owners agreed with Jones' assessment, which is why they're investing in Greer by giving him the opportunity.  "I'm on the payroll and absorbing everything about the business from costs to chemicals, all about the planes and expenditures. Everything," he grinned, "and it's exactly what I got into this business for, to be a complete ag pilot," Greer said.  Within a year, after learning everything he needs to know, he will join chief pilot Kevin Jones and Cord Foster as the companies third pilot.
Currently, Tunica Air Inc. owns an Air Tractor 502 and a 602, but the owners are in negotiations to acquire a second 602.  With the addition of that plane, the three aircraft will be better able to serve customers in the market they cover; farm fields within a 40 mile range of their location two miles south of the town of Tunica, alongside Highway 61.
Because the operation sits just 75 feet from the roadway, when the planes are active passing traffic often slows to watch them take off and land.  "On weekends, we'll have cars parked on the crossroads at either end of our 2,500 runway watching us," Greer noted, "since it's a treat for kids and adults alike, who normally don't get close to an airplane."
Waylon Greer is a focused and goal oriented 20-year-old. Where many of his buddies are either in college or working to buy a pickup truck, Greer is a certified ag pilot who is learning every aspect of the business he loves while waiting for the arrival of the  companies second Air Tractor 602.  When it joins the fleet, the 502 is his and his assignment will be liquid fertilizer spraying.
His personal goals are just as ambitious.  "I want to eventually get married—I have a wonderful girlfriend in my life—and I want kids. Career wise, I will be an ag pilot for as long as I can and along with having a family, I'll be happy," he smiled.
For a young man of 20 who is mature beyond his age and looks older than he is, the future of aerial application looks good not only for him, but also for the industry.
Waylon Greer is part of a new generation of ag pilots who see their role in the farming industry from a different perspective: from the air.