By Mark H. Stowers • Photography by Austin Britt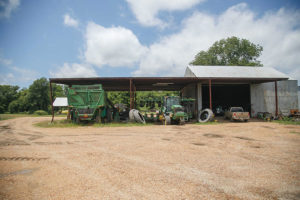 About a mile or so off the main thoroughfare between Silver City and Midnight sits the Hairston Farm Headquarters and shop. At first glance, the structure resembles an old gin. That's because it actually is.The former gin was picked up and moved more than a half century ago and has been renovated and remodeled for the Hairston's more than 4,200-acre farm needs that includes 600 acres of catfish ponds as well.
Thomas Hairston, along with his father, Bob, brother Andrew and their sister, Camille who keeps up with the payroll and the farm's bookkeeping, are all part of the family farm – Riven Oaks.
"There's a 2,500 acre block where the shop sits and it consists of the shop,  a large equipment shed, two pole barns, and old mule barn that we kept mules in until the 1960s and we've also have a Quonset hut that we made out of a grain bin," says Hairston.
But, it was Hairston's grandfather who bought the gin that was formerly  located in Belzoni in the 1950s and re-assembled on the property.
"When my father came back to farm, he helped extend the awning to double the size of the shop," says Hairston. "Our shop is like half of a gin and one big awning that you can fit combines and cotton pickers in. The man who assembled it said the gin was probably out of the World War II era due to the iron they used."
Moving inside the shop, there is an antique cotton trailer that has been reformatted and used for storage.
"It's on stilts and we have a parts room underneath it," he says.
The Hairstons conduct normal type of maintenance and repair work with welding equipment, torches, chain lifts and other basic farm shop equipment. The shop itself measures around 50-feet by 50-feet inside and the exterior extends to 120-feet by 70-feet as estimated by Hairston. And they continue to upgrade the shop.
"This past winter we installed LED lights and that was a huge help. In the winter, we rebuild cotton pickers. Our lighting is a lot better now. The LED lights are worth the money," says Hairston. "It's an old gin and we have 24-25-foot ceilings. We had to have a scissor lift to install them. It was quite a project."
The Hairstons don't do a lot of cooking in the shop, but they do use it as a place to skin deer.
"We have water and electricity and a hoist in the shop which allows us to clean and prepare the deer for processing"
All of the Hairstons enjoy collecting antique farm machinery that is scattered throughout the shop area.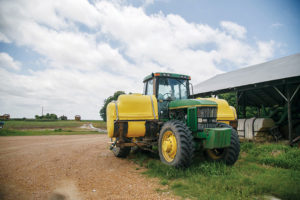 "I personally collect antique cotton pickers. I have some that are from the 1950s and 1960s," he says. "I have an old one-row cotton picker that I actually used to pick cotton a few years ago. It ran nearly as well as a brand new machine.The others are just a project waiting for my attention, but I haven't had any time to work on them. We have plenty of remnants from the past that we still use in our farming operation."
The former 1950s cotton gin continues to thrive in its new life, and the Hairstons continue to find ways to incorporate its size and shape to fit their needs.