By Mark H. Stowers • Photography by Austin Britt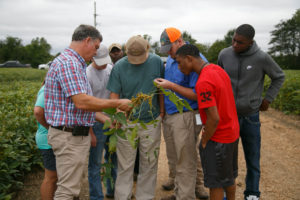 Mississippi Delta Community College has been a fertile training ground for farmers for several generations from its humble beginnings in 1927 as Sunflower Junior College to MDJC and now MDCC. Ag students learned the basics of farming and either went back to their family or local farm or onto a four-year university for more education and a degree.  With farming becoming more technical and diverse with AutoTrac hands-free guidance, GPS and much, much more, the MDCC Ag Programs, Field Crops Technology and Precision Ag Technology are being revitalized with much needed equipment, technology and funding.
In order to better prepare students, the Ag Department will soon have a brand-new John Deere tractor as well as simulator technology. MDCC President Dr. Larry Nabors, Field Crops Technology instructor Barry Corley, Precision Agriculture Technology instructor Steele Robbins and Jonny Spivey, a MDCC Ag alum and Sanders employee, are excited about the invigorated direction of the program. In his final year as President, Nabors, along with his staff and alumni, has worked hard to continue finding resources for the ag program.
"Obviously, agriculture is a big part of the Delta and we want to do whatever we can to support local industry," Dr. Nabors says. "We certainly want to support our local farming community in their efforts to improve their workforce."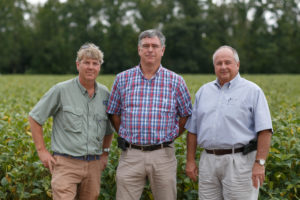 The community college has land and equipment that it uses to train students, but a large section of the land was not being used due to it still being set up for catfish ponds.
"That was wasted land. It wasn't land formed and it wouldn't drain very well. The main thing we're doing is we're totally redoing the catfish ponds and putting them back in row crop. We're also revamping some of our existing land," Corley says. "We'll be able to use the latest technology of soil moisture sensors and flow sensors on the wells. We'll have it where I can pull up the sensors on my cell phone and be able to cut the wells on and off."
The revamping will be compried of three steps with the land forming being step one followed by step two with soil preparation and underground irrigation pipes. The last phase will include an outdoor classroom replete with information for anyone to drive up and read exactly what is going on at the Macon Lake Road Campus.
"We're going to build an outdoor pavilion with bricks in the foundation honoring those who have helped as a thank you. And we want to have classes, field days and things of that nature," Corley says.
The program currently has thirty acres of soybeans planted and has two acres of sorghum that they make into molasses during harvest. With the additional land coming back into crop usage, there will be acreage blocks of differing crops.
"We're trying to get different parts of the industry involved. We'll be doing outreach to different businesses to see  if they want to come over and do research. We want to have a central location for private industry to partner with education to be able to do projects here," Corley says.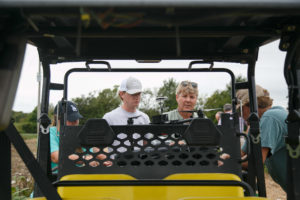 The catfish program ended a decade or so ago, according to Nabors. But with help from local farmers, current students and instructors, the land is getting prepped and revamped for usage and training. The heavy lifting land forming of the catfish ponds has been done by the Fitts family with MDCC paying for the diesel to do so according to Spivey.
Part of helping train the students is getting the latest technology in their hands – including a John Deer 6195R tractor.
"We always have needs to keep our equipment updated. We are also in the process of trying to get some simulators to train the students with," Dr. Nabors says. "I know that John Deere has simulator modules that they use. It's basically like you're inside the cab of a tractor. Not just for our students, but we could also have employees from farms come here and get training on those simulators. It's good for the region and that's what we're working toward in providing training for the industries in our area."
Corley notes the new tractor purchased by the school "will have all the bells and whistles on it. We've been working on this since June of this year."
Spivey was originally tasked with finding donations in funding or equipment for the program. The 2017 MDCC Alumnus of the Year was happy to get more folks involved in the program that has trained so many Delta area farmers.
"This is Barry Corley's program that he's run for years," Spivey says. "I went out and raised some money to put the catfish ponds back into row crops. I'm doing this for the love of the school. We're growing about thirty-eight acres of soybeans and we're trying to update the program."
IHL budget cuts have not left much of a budget to work with so Spivey has been working with industry partners and farmers to donate money and equipment. Spivey is initially looking to raise $100,000 to infuse the program and then help maintain.
"We're spending the bulk of it right now land forming, putting in drainage pipes and underground water lines," Spivey says. "I'm probably half-way there. If anyone wants to donate they go through the MDCC Foundation for a tax write off. We've had some real nice equipment donated. You'd be surprised how generous some people have been on this project."
MDCC Associate Vice President Advancement & Public Relations, Reed Abraham, notes the program has been blessed by alumni participation spurred by Spivey.
"Barry came to me with this idea four years ago. This has been needed and wanted for some time but wasn't possible with the decreases we've seen in the IHL budget the last decade," says Abraham. "But two years ago, we partnered with our alumni and particularly Johnny Spivey in the fundraising efforts to get this done. Johnny deserves way more credit than he'll be pleased with accepting. It wouldn't have happened without him."
Abraham explains, "that's why the foundation exists – to partner with our supporters and donors and allow them to make contributions in other areas."
Corley has been at the community college for nearly three decades teaching present and future farmers.
"We're not changing any of the course work but trying to revamp and get the latest technology. Every so often you have to revamp so you don't get stale," Corley says. "We have a very active alumni ag chapter and Johnny Spivey is heading this up. We're getting them involved."
Robbins has been teaching at MDCC for the past fifteen years. He stays quite busy in the precision ag classes including using a $10,000 drone.
"We use that to try and see variation in the crop and scout for beaver dams when we have drainage issues," Robbins says.
The farm work is done by students but involves different segments of the technical college.
"I'll take my Remote Sensing students out there and we'll fly the drone and find where the dams are located. Then I take my Site Specific Pest Management Class and we go put out traps and catch the beavers. The Construction Equipment Operator Class comes out and uses their track hoe to pull out the beaver dams. We show how you can use technology to your advantage in the Delta," Robbins says.  "It's also useful to see where the damage is from feral hogs and you can locate the hogs."
Robbins noted that the Precision Ag industry is seen as one of the industry most needing employees. "It's been targeted as one that needs more training. One of the good problems we generally have between both of our programs is that we have more people that are looking for employees than we have students to provide."
Any and all alumni are invited to visit classes and help students "understand how using GPS or variable rate spray technology or yield mapping is helping in their operation," Robbins says.
To learn more about donating to the program in any way, contact the MDCC Foundation at (844) MS-DELTA (673-3582) or visit www.supportmdcc.com.