By Angela Rogalski • Photography by Rory Doyle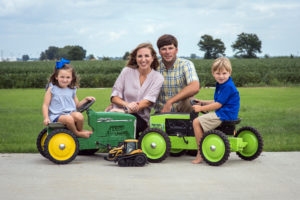 Whether it's a social thing or people reliving their childhoods, farm toy shows have been drawing crowds all across the country for decades. From student groups like the FFA (Future Farmers of America), to individuals who enjoy collecting and sharing their finds, these toy shows are usually filled with John Deere green and International Harvester red, and a whole lot of memories for most people.
The Cleveland Farm Toy Show is an annual event that is held in Cleveland at the Bolivar County Expo Center. The event allows people to buy, sell, or trade many of the farm toy collectables that are on display. Blake Andrews is the founder and promoter of the Cleveland Farm Toy Show and has been bringing it to the Expo Center since 2014.
"It's an event where we have vendors coming from all over to sell, trade or show their farm toy collectables," Andrews says. "And there's usually a little bit of everything on display, just all kinds of farm toys. From riding toys to memorabilia, the attendees have the opportunity to buy some of the items, while some vendors are there just to show their handmade models. There are remote-controlled trucks and tractors and construction equipment and the vendors set up and showcase them on the floor during the show. These are toys you won't usually find in a store anywhere, many are custom-built."
Andrews adds that everything is always farm-related, any toy that would be associated with the farming lifestyle. On January 25-26, 2019, the Cleveland Farm Toy Show will be celebrating its sixth year at the Bolivar County Expo.
"Farm toy shows are a really big hobby for people in the northern part of the country," Andrews says. "I've been
collecting farm toys pretty much my whole life; it's been a really cool hobby for me too. And in my opinion, here in the Mississippi Delta, life is based a lot around farming, just about everyone has some connection to agriculture. Whether they do it or their parents or grandparents did it, there is usually a family farm in people's history. So, I think the farm toy shows are a great opportunity for kids to get into collecting these toys that their parents or grandparents broke their backs to actually use. It shows children other things they can do besides stay in front of the TV all day. Every little kid likes to play in the dirt, and some of us older kids still enjoy it too."
Andrews says that getting the word out to vendors wasn't that hard, since he's been traveling for a while around the surrounding areas and farther north helping out other collectors to promote their events.
"I travel a lot with it, helping other people put their shows on; I have a lot of friends who do this too. So, I've met quite a few people over the years. And when I decided to hold the Cleveland show, I began to let vendors know. Most of these people are traveling five to seven hours to get here. And the first couple of years was a lot of trial and error, but now we're getting more vendors. We advertise with Facebook, newspapers, radio, and word of mouth. So, it's growing."