By Angela Rogalski • Photography by Rory Doyle
Nutrien Ag Solutions is the largest retailer of crop inputs and solutions for growers in North America.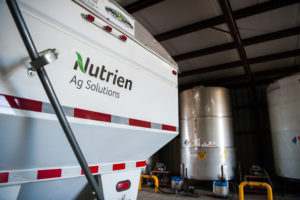 Jeff Tarsi is vice president of the North American operations, and offers a brief description of exactly what that means.
"We provide anything a grower would use to produce a crop. Crop inputs include seed, crop protection, and fertility products, and we provide them all. We also do custom application, we finance, and we have a digital platform as well to share information with our customers, such as analytical data to help them make the best decisions in producing their crops."
In this context, "custom application," means Nutrien Ag Solutions employees apply the products such as fertilizers and crop protection for the grower, rather than selling the products for growers to apply themselves. Custom application is more common in other parts of the country, particularly the Midwest, than it is in the South.
Nutrien Ag Solutions was previously known as Crop Production Services, but rebranded itself in July 2018.
"Our parent company, called Nutrien, came about as the result of a merger of equals between Agrium and Potash Corporation of Saskatchewan. On January 1, 2018 we completed the merger of equals to form the largest nutrient company in the world. At that time, we operated our retail business in the States and in Canada as Crop Production Services, but we decided to rebrand ourselves to make it clear that we're a united wholesale and retail company that's all about agriculture. We're very back-integrated with the business and we're highly committed to agriculture on a very long-term basis. Our retail business is the same company it's always been, it's just rebranded."
Tarsi travels extensively, but is based in Memphis, Tenn., where the Mississippi Division of Nutrien Ag Solutions is located.
"We have roughly 900 retail outlets in the U.S. and around 300 more in Canada, so we have a very large presence in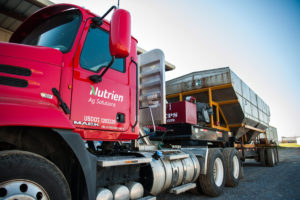 the market. We want to serve our customers with the highest quality products and services to ensure that they're able to maximize yields on their soils and maximize profits."
Tarsi adds that the company's customer and purchasing base is vast.
"When you think about players like Bayer, which acquired Monsanto earlier this year, and Corteva, which is the agricultural division of DowDuPont, we would be the largest customer for both of those companies. We buy from the basic manufacturers and we sell to our growers, but at the same time we're back-integrated with our own products as well, both crop protection and seed. Nutrien is the largest producer of potash fertilizer in the world, and we're a major producer of nitrogen and phosphate as well, and these wholesale businesses supply our retail organization extensively. Nutrien Ag Solutions also has a proprietary line of seed called Dyna-Gro® and we market our proprietary crop protection and adjuvants products under the Loveland Products brand."
Nutrien Ag Solutions operates about twenty-five retail farm centers in Mississippi, and Tarsi says the company is always looking for opportunities to grow. In some cases, they build new facilities from scratch, other times it makes sense to expand existing operations and in other cases, they buy businesses from other companies.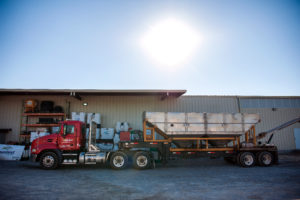 "We just built a new, state-of-the-art facility in Guntown to serve the customers of East Mississippi. About 550 people attended the grand opening," Tarsi says. "We also have an experimental farm in Winterville, where we can show our customers our latest products and technologies and how we use them. We have a Loveland Products crop production formulation plant in Greenville, which employs around one hundred people. It's one of the largest formulating facilities we have in the country. We're one of the largest employers in Washington County, and we're very invested in the entire state of Mississippi and its agriculture industry.