By Patrick R. Shepard
It's been said that the founding members of the Mississippi Agricultural Consultants Association (MACA) were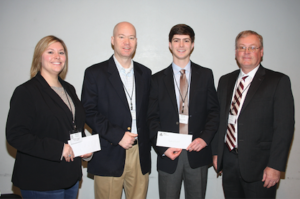 visionaries whose revolutionary concepts are comparable to those of early technology entrepreneurs, including Steve Job and Bill Gates.  Charter members such as Mills Rogers, Charlie Craig, Russell Black and Kim Kimbrough saw the need to simplify insect control for the cotton farmer to free him up for other production challenges.
MACA is a professional alliance of independent crop consultants who provide a unique service to Mississippi Delta producers and other Mississippi farmers. Current voting membership in the organization is 64 members.
Retired independent crop consultant Mills Rogers, who was the first MACA President, formerly of Cleveland, Mississippi, notes that when he was a Mississippi State University student, two of his professors, Dr. Ellis and Mr. Wilson, were involved in scouting in the Greenwood area.  These two professors taught Rogers and other students about cotton scouting and making insecticide recommendations.  "Several of us were very interested and would stay at break time after classes to discuss changes in insecticide chemistries and formulations," Rogers recalls.  "This is how many of us became interested in the cotton consulting business and added similar professions to supplement our income.  Several Mississippi State graduates had already gone into the crop consulting business, including Jack Oakman, Ray Applewhite, Bill Harris and Jimmie Walker."
As the need for cotton consulting increased, several of these early innovators would meet at a Greenwood restaurant to discuss insect issues with worms, boll weevils and other insects.  These informal meetings continued for several years, starting in the late '60s.  The early consultants recognized the need for a formal organization so they formed MACA in 1973 in Greenwood.  Members are required to be licensed by the state of Mississippi, and people including Robert McCarty, Mississippi State Plant Board; and Dr. Ross E. Hutchins, head of MSU Department of Entomology and Zoology, helped the consultants organized their association.
MACA Vice President Jeff North, who is based in Madison, Mississippi, adds, "Those early MACA days set the mold for qualifying members to practice agricultural consulting in the state. MACA members started out as cotton consultants; today, we service all the state's crops, including cotton, rice, soybeans, corn, peanuts and grain sorghum.  In the beginning, we scouted cotton for insects and made insecticide recommendations to our growers.  Today, we are now involved in all aspects of crop production, including insect and weed and disease control, irrigation, fertility, soil sampling, harvest aids, and variety/hybrid selection." 
MACA voting members are consultants who are educated, trained continually, experienced, and ethical. Each member has a college degree or higher in a relevant field of study.  Many have graduate or doctoral degrees in an agricultural or biological field.  Association members are also required to pass a rigorous state test to become licensed in one or several consulting categories. Additionally, many members have professional certifications.  To remain licensed and certified, each member must attend many hours of continuing education classes between each growing season.
The 46th Annual Conference of the Mississippi Agricultural Consultants Association was held in February at the Bost Extension Center, on the Mississippi State University campus.  Many allied industry sustaining members are represented at the annual MACA meeting, as well as university/Extension personnel.
The association provides continuing education and helps keep members updated on their educational CEUs.  Additionally, MACA works with other regional state consultant organizations and the National Alliance of Independent Crop Consultants (NAICC) to voice legislative and regulatory concerns on local, state and national levels.
"MACA does an excellent job of being at the forefront of helping us be aware of all of the continually changing information," North says.  "Additionally, we communicate with each other, both within the state and within the region.  Members throughout the state contribute to a twice weekly blog during the growing season available on www.msagconsultants.com, commenting on the crop progress, pest concerns and other relevant information."
Every year during its annual meeting, MACA also awards up to two, $2,000.00 scholarships to a Mississippi State University student majoring in an agricultural discipline at the under-graduate, graduate or post-graduate level.  The independent crop consultant association-sponsored scholarship program began in the early 1980s, and is designed to encourage and develop highly talented MSU students in agriculture.
MACA Executive Secretary Carol Bullard keeps all the moving parts of the consultant organization running smoothly.  After nearly fifty years, MACA remains a jewel of the Mississippi Delta, and the rest of the state's agriculture.
For more information on MACA, go to www.msagconsultants.com