By Angela Rogalski • Photography by Rory Doyle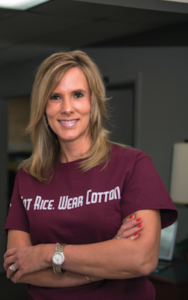 Laura Giaccaglia, Extension Coordinator/Agent IV for Bolivar County, may not consider herself a traditional "ag person," but she has brought a wealth of knowledge and can-do attitude that has enhanced an already stellar program.
Under her leadership the Master Gardener Program was revitalized and the Mid Delta Forest Woodland and Wildlife Association was established.  She also expanded Delta Rice Promotions, INC outreach efforts.
"These are things that I continue to organize, develop, and implement even though my actual program area is now Family and Consumer Sciences and Community Resource Development," she says.
As for her agriculture roots, Giaccaglia grew up in a very small town called Coahoma.
"Many think I mean Coahoma County when they ask me and I have to explain that there is actually a town named Coahoma located near Moon Lake. I grew up a farmer's daughter. My grandfather came over in a covered wagon from Calhoun County to farm," she says. "My dad grew up knowing no other way of life.  As a very young child, I remember making many trips to the farm with my mom. From delivering parts to the field, to riding in the bob truck in the night to get the soybeans to the scales to pulling cotton trailers to the gin, I remember being with my mom getting these things done. Often I would ride with my dad in the cotton picker and he would let me steer.
"My job was to keep the spindles clean. Of course my father gave me the job to feel important and anything I could get into that would make me as dirty as my dad, I wanted to do. He actually paid me to tromp the cotton. I think that is when unknowingly he taught me the lesson that work really could be fun," Giaccaglia says. "If you enjoy what you do, it doesn't seem like work. My dad moved to Heber Springs, Ark., in his later years, but would love to talk farming with my husband when we would  visit. My husband, Jeff, is a salesman at Planters Equipment Company and has been working for them for nearly thirty years. He and I own farm land that we currently rent."
Giaccaglia, who received a BS in Family and Consumer Sciences education from Delta State University and an MS from Mississippi State University, did not begin a career in agriculture right off the bat.
After a brief stint at Regional One Mental Health as a program developer, where she created, implemented and evaluated the Baby Pathfinders Program and was later promoted to Program Monitor, she found an opening for the 4-H Extension Agent in Coahoma County, after waiting two years for just the right position within the organization.
"Three years later there was an opening in Bolivar County for a 4-H Agent. In addition to 4-H, I have served as the Interim County Director and in 2010, I was named the County Director. Extension has resumed using the title County Coordinator which is the title I remember when I was initially hired in 1999. There have been times over the years that I was the only agent in the Bolivar County office. During these years we had Area Extension Agents that I was able to call upon to ensure client's needs were being met in the field," she says. "However, there were things that I was able to do in order to ensure there was not a vacancy in the Ag program. I produced ag newsletters, taught Private Applicator Trainings and Worker Protection, I submitted weekly crop reports, and provided yield reports. I made home horticulture visits and collected information needed to present to the appropriate Extension Specialist in order to make a recommendation to the homeowner.
"I remain a member of the Mississippi Association and the National Association of County Agriculture Agents. I learned a long time ago, to be a good extension agent, you have to know how to do a little bit of just about anything," she adds.  "I'm sure most people would say that has to be a challenge, but I don't really think of it as challenging, because I really do enjoy what I do."
Giaccaglia says noone knows what the future holds, and everyone has seen many changes over the years in agriculture.
"Just from the time in my life where I was tromping daddy's cotton as a little girl to now seeing cotton pickers that bale the cotton for you. Technology is steadily forcing us into change but one thing will never change," she says. "We will all need to eat. We will always need to say thank you to a farmer."