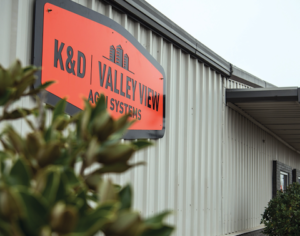 Valley View Agri-Systems, located in Cleveland, continues to provide farm storage facilities across the Delta and state. Valley View Agri-Systems was founded in 1980 by Fred and Susan Cathcart. K&D Associates was purchased and integrated into the Valley View brand in 2000. In 2012, Jim Cochran purchased the company; and is currently the CEO/Owner.
Hal Fleming, director of sales/operations in the Cleveland office, says Valley View Agri-Systems provides full-service systems design and new construction sales.
"We also handle the service and parts needs in the LA/MS corridor. To meet our customer's needs, we will employ as many as four service crews at any given time," Fleming says. "I assist my team in problem resolution, pricing, market interpretation, resource loading, and any other factor that keeps us efficient and poised to handle opportunities and challenges. I monitor performance in the market to ensure we provide a quality product, services, and keep sufficient inventory to ensure timely service to our customers while keeping our commitment to safety for our employees and customers. Also, I work with my team, and customers, to understand the opportunities associated with the conditioning of grains to ensure safe storage so that our customers can take advantage of market opportunities and maximize return on their grain inventories."
Valley View Agri-Systems has a loyal customer base due to its professionally designed and constructed farm storage facilities as well as its experienced service crews to timely and efficiently handle breakdown and repair needs.  "We also carry a full inventory of parts as to expedite recovery time of breakdown," Fleming says.
"Farm storage is an important part of our customers operations. It helps to improve harvest efficiencies by allowing them to harvest in a timely manner, and it also opens up other marketing options by allowing them to condition and store their own grain versus delivering it straight to the elevators at harvest," he adds.
Valley View Agri-Systems also keeps up with changes in their field.
"Grain bins have gotten more structural as OEM's have tried to lighten the steel in them. Not much has changed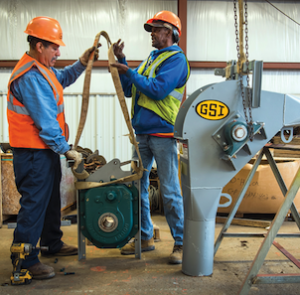 with the bins; however there have been significant advances in the way we handle and condition grain," Fleming says. Chain Loops have replaced the conventional circles as they allow a producer to have a receiving pit and load station which is tied into a system of inline bins. Grain Pumps have been a significant advancement to the traditional augers. Better capacities and less damage to the grain have been a result of this. 
Traditional conditioning of grain has been replaced with cable systems which take advantage of algorithms developed through the research at some prominent universities. Grain dryers have come a long way as well. With algorithms that give a level of autonomous control allowing the producer to focus on other tasks vs having to babysit these processes.
Fleming says the most significant advancements have been in data acquisition and remote monitoring of these processes with some of them giving a level of remote control.
"The intent is to use technology to allow more efficient operations into farm systems. A producer having confidence in the dependable transfer of grain and conditioning is a necessity in today's climate of suppressed commodity prices. Efficiencies are very important," he adds. "We pride ourselves to be in the forefront of utilizing these technologies to help our customers to become more profitable."