By Mark H. Stowers • Photography by Austin Britt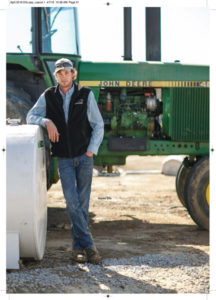 Farmers across the Delta normally have a pedigree that reaches back into the family tree for a few generations.
Just like planting and harvest, fathers and their sons and daughters keep replanting, nourishing and encouraging a life out of the rich Delta soil. But for some, farming is a new venture for a family. A dream come true that gets freshly planted with hope and dreams of generations to come.
Hunter Doty is a welder by trade but when his high school friend, Dirk Sikes, got into farming, the fabricator knew he wanted to get his hands dirty in a new way.
"He had moved back from Jackson and found some land and started farming. I thought to myself, if he can do it, so can I," Doty said. "At the time I was a full-time welder and I just wanted something different, so I picked up 27 acres beside my house and started farming."
Each year he added to his acreage "a little bit more and a little bit more" until he amassed nearly 1,600 acres.
"I've got land around Boyle and a majority of it is around the Parchman area. I grow soybeans and corn and I'm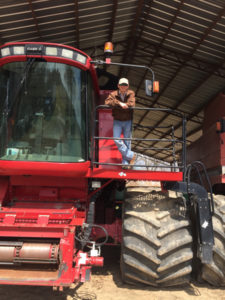 going to try rice for the first time this year," he said. "I picked up some land and they had moved a lot of dirt on it and a lot of people said that putting rice behind dirt buckets is a good thing to do."
Doty began farming in 2012 and had just enough land to start his learning curve.
"It was something to do in the afternoons—it was like having a hobby or a garden but it was a lot more work than a garden," he said of those initial 27 acres. "And it cost a lot more money."
Doty was lucky that his high school friend let him borrow equipment for his "hobby" and he grew soybeans that initial farming year.
"I haven't bought a lot of equipment. I've got a tractor, a planter, a disc, a sprayer and a hipper," he said. "I'm in the process of getting another tractor and another planter. The window for planting is such a small one it's hard to get all of your crop in the window they want you to get it in."
Doty doesn't have an equipment brand preference as he has both John Deere and Case International products helping him make a living.
"I try to get the best deal with the lowest hours. I have a Case tractor and I'm fixing to get a John Deere," he said. "I leased a John Deere combine this year. In the past I paid somebody to come in for custom cutting."
And Doty is helping plant the farmer dream in others as he has two part-time helpers who are still in school.
"One is a senior in high school and one is in college. I get as much done each day until they get out of school. One of the men is from family farm and he works there and helps me," he said.
To get the most out of his vocation, Doty works the resources he has available to him.
"I ask a lot of questions," he said. "I've got a crop consultant who is a good friend of mine. My father in law farmed for 50-plus years and I'll call him if I have a question. Then another farmer, Bern Prewitt, I'll call him if I have a question. My buddy that I started behind, I'll call him and see if this has happened to him before. You need a good crop consultant."
He also relies on his wife, Kattie, his daughter—Brynli (12) and son Gage (5) for inspiration and support while he's on the turnrow. And he's passing down a time-tested farmer tradition.
"I've even taught Brynli how to drive a tractor," he said. "She even likes walking the poly pipe with me and poking the holes in it and plugging the holes and she likes running water furrows on the four-wheeler. I've got to teach my kids a good work ethic."
To get his 27-acres up and running initially, Doty, like most farmers, had to borrow money.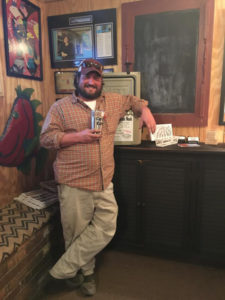 "It wasn't as hard as I thought it would be," he said. "The hardest part is you think there's a lot of money in farming but there's really not. You handle a lot of money but you don't get to keep much of it. I don't know why we do this? I guess it's in our blood and you love it. I still weld on the side to make money."
His favorite part of farming is "the smell of dirt when you first start breaking ground and planting." The hardest part—"putting out poly pipe, especially when I have to put it out by myself. The hardest part mentally is rolling the dice and waiting to sell your crop."
With his grandfather, Clark Manning, plowing an educational path for him, Jack Price (22) got to spend plenty of time with him learning the foundational basics of the trade. After working for his grandfather throughout his younger years and high school he looked for some higher education to attain for his vocation.
"I first went to Delta State but then learned that Moorhead (MDCC) had an ag program. I transferred there and went two years getting a degree in Field Crop Technology. I graduated this past May."
After learning the ways of the turnrow, he's now starting Price Farms LLC this year and is waiting for things to dry up, so he can start his career.
"I've got my seed ordered and I've got beans booked to sell. My grandad hasn't completely retired and he'll be helping me make decisions," Price said. "I'm leasing all of the land I'm working from my grandad and I'm leasing 100 acres from my mom. We're doing a crop share, so I don't have to pay cash rent. They get a share of what I grow and that really helps me out."
Price will be overseeing 670 acres for his first year behind the plow.
"As I get older and learn the ropes a little better and learn the business side, I hope to branch out and eventually buy some land," he said. "I'm doing about 112 acres of rice and the rest will be soybeans. Soybeans are my favorite. They are easier to keep up with. With rice you have to flood it and check your gates every single day and make sure none have fallen down and you're losing water. And you have to fertilize it and that's more money. Rice is a little tougher."
Price is a Case aficionado when it comes to his farm tractor and equipment choice.
"If it ain't red, it stays in the shed," he said. "It's all I've ever known. This past year I ran a Cat Track machine and that was nice."
The first-generation farmer will be working mostly by himself with his grandfather pitching in some but Price will be looking to hire on someone when the work load increases.
"I'll try to hire somebody when all the hard, physical labor of putting down rice gates and running poly pipe starts," he said.
With the business side of things, he's been absorbing quite a bit following his grandfather around to banks and insurance companies.
"I'm still learning but for the past two or three years I've been going with my grandad when he met with insurance companies and crop consultants. And Moorhead helped me a lot with that. We did practice budgets," he said.
Price enjoys harvest time most of all but the hardest part is "finding good labor." And now he gets to figure out what it means to be the boss.
"There's a big difference between just working on the farm and actually running the farm," he said.
Farming just came naturally to Hayden Bills (21) because it was all around him when he was growing up. It would become his destiny of sorts.
"I've loved farming since I was old enough to know what it was," Bills said. "I don't have any family that farms, just growing up in the delta seeing people farm—it's just something I've been around my whole life. I first started working on a farm when I was around 13 years old."
Bills worked for other farmers and learned the ins and out of soybeans, corn and milo and this year will be planting his second soybean crop with a well-known green and gold color.
"I've always driven John Deere equipment. I also have my own John Deere 4640 tractor that I just recently purchased," Bills said.
As he works alone on his farm, Bills has to do the do the work on and off the turnrow.
"I've learned many things about farming in my first year," he said. "Chemicals, bank loans and finding land—that's the hardest part—land is by far the hardest to come by."
Normal days begin around 7:00 a.m. and get moved up earlier to 5:00 a.m. during planting or harvest. The days can stretch as late as 2:00 a.m. "if that what it takes."
"It takes a special person to wake up at 5:00 a.m. in the morning and leave your family and not see them again until sometimes 11:00 or 12 o'clock at night and wake up the next day and know all that may happen again tomorrow. But you want to do it not because you have to. But every chance I get to be with my family I cherish the moments."
Though the work is hard, it's enjoyable and at the end of the day, there's a feeling of accomplishment.
"My favorite part of farming are the challenges that are thrown to me day to day," he said. "The hardest part about farming is coming up with the money to start farming. But no matter what I do whatever it takes to make it work."
With 1,000 acres under his watchful eye in Humphreys County, Michael Haynes (27) is just waiting on Mother Nature to break ground this year. Last season the first generation farmer had corn and soybeans but will plant only soybeans once its dry enough. He learned his ag skills from his dad, Scott Haynes, who he still partners with and leases equipment for his acreage.
"I'm a Case man all the way," Haynes said. "I rent my dad's equipment and use the farm labor we have in that partnership. But I'm on my own on the bank loan and all. It was scary last year but I can't complain. We came out on top."
His favorite part of farming is not being stuck in an office but having his "office" being a tractor cab. The hardest part?
"The business side for sure is the hardest," he said. "But you have to make sure your crop has enough water and make sure the bugs aren't eating everything up."
Married with a five-month old son, Haynes is itching to get him plugged into the farm life as soon as possible.
"Not yet but I'm ready for it," he said.
With a Business Degree from Delta State University that helps him understand the financial side of the business, the turnrow knowledge came from his father.
"I've learned everything from my dad. He's my hero and my mentor," Haynes said. "I look for his advice on everything."
Beginning his own farm was something Haynes decided on at a young age.
"It's all I've ever been around. I wouldn't trade it for the world," he said. "It's all I ever want to do."
First generation farmers, doing what they love, beginning a vocation that could bless countless generations to come.