By Aimee Robinette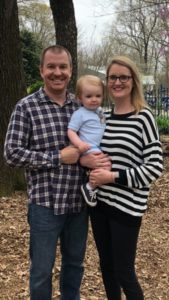 For some Deltans, there is a never-ceasing love of agriculture. It may be heading down a highway and  being visually treated to row after perfect row of crops or it may be driving a tractor on generational acres.
For Drew Wilson, ag agent for both Quitman and Coahoma counties, it is learning multiple aspects of the farming business in order to help producers get the most out of their yields.
Wilson, who received his undergrad in Agricultural Engineering Technology and Business (AETB) from Mississippi State University in 2008, grew up on a family row crop and cattle farm in Crowder and has immersed himself in multiple facets of row crop production.
"I have been involved in most aspects of row crop production: farm level, corporate side of Ag, and now the government side of Ag," said Wilson. "After graduation, I went to work for Bayer CropScience as a sales trainee. My responsibilities fell predominantly under assisting our regional managers and their sales staff in two different areas of the Southern Regional office for Bayer. Those regions were Southeast District (Alabama and Georgia) and Atlantic District (South and North Carolina, Southern Virginia). After a few months in that role, I moved into a sales territory as a Field Sales Representative. My territory was the southern third of Louisiana and a portion of Southeast Texas.
 "After a couple years with Bayer, I moved back closer to home and went to work for a corn seed company, called AgriGold, as a Territory Manager. In my three years with that company, I covered different territories as we expanded and evolved in the southern market," he added. "I predominantly worked in Mississippi and southern half of Arkansas. I later came to cover West Tennessee as well. It was a very educational and rewarding experience to work with a growing, research driven company. Something that I wouldn't realize till a couple years after leaving, that would show me my true passion and place in Agriculture."
 Wilson said after AgriGold, he went to work for Dulaney Seed Company as a Product and Marketing Lead. His role was to help lead and direct the sales staff.
"Dulaney was a great place for me to work, but after a couple sale seasons, I realized something was missing. The same drive and passion that I had initially for sales was no longer there. This lead me to some soul searching, it's during this time that it wasn't the sales aspect of things that I had been passionate about since starting in corporate agriculture, but rather the Agronomy side of things – the research aspect and helping my customers take their cropping and production practices to a new level of profitability," Wilson explained. "The MSU Extension Agent role for Quitman County came available during this time of transition, so I explored it. It has been one of the greatest decisions I've made in my relatively short career span, as I get to work with a diverse clientele grouping and diverse range of topics—fruits/vegetables, CRP/hardwoods, row crops, etc."
 From there, Wilson took over Ag responsibilities for Coahoma County in mid-April of 2017 after the retirement of long time agent Don Respess.
"As most are aware, budget constraints amongst state agencies has been an issue last couple years. Due to these restraints, we've had to increase some roles until funds become available to make some new additions in staffing," Wilson said. "Don used to cover both Quitman and Coahoma counties for Extension, so we knew it was both possible and effective. Also, with my sales background I have familiarity with some of the clientele in Coahoma county.
 "At times it can be hectic covering two counties, mainly during the growing season, but it is also very rewarding," he said.
To add to his already busy life, Wilson decided to further his education and knowledge by entering into the graduate program for Agricultural Extension and Education, of which he is in the beginning phase.
 That won't change his love of being an ag agent, which includes duties with MSU Extension, where he is an Agriculture and Natural Resources agent as well as managing 4-H responsibilities.
"My favorite part of my job is just being able to lend a hand to the people within my territory. A lot of my job is to help makes theirs easier and hopefully more profitable," Wilson said. "We help farmers with a wide range of things. During the year, I help facilitate and direct on-farm research plots across multiple crops. The data from these plots helps us to generate a recommendation for varieties based on soil type, farming practices, among others.
 "I also help with soil sampling by pulling fertility and nematode samples for both row crop and vegetable producers. I also help break down the samples for proper fertility recommendations," he added. "Currently, one of our biggest pushes, is helping growers with a new water initiative in agriculture. Due to the declining alluvial aquifer in Mississippi, a set of standards has been developed for growers to use to help them reduce water usage without sacrificing both crop needs and the yields. Through a grant, Extension Agents in the Delta Region have been given tools to help farmers transition into the use of these new practices. Ultimately you can say, Extension Agents are a jack of all trades."
 As far as Coahoma County is concerned, 2017 crops were pretty good across the board.
"In terms of grain production, we saw great yields in soybeans, rice, and corn. This was predominantly due to the milder weather conditions and unseasonable rain events during our growing season last year. One of the major crops in Coahoma County, cotton, did see a hit in terms of yield last season," Wilson said. "The reason for this is because the conditions that favored better grain production for us, hurt the cotton crop. Cotton is tropical plant that likes heat and does not tolerate a lot of water. Even though our overall yield numbers as a county will be off for the 2017 production season, in cotton, they will not be off nearly as bad as we expected."
As the county heads into the 2018 season, Wilson said the feeling is cotton numbers will be up to flat in acreage, soybeans will be flat to down, rice will be up to flat, and corn will be down.
 "There are a lot of challenges being faced in agriculture right now, but most are profitability-related," Wilson said. "With the continued rise in costs of equipment and inputs, it gets harder for a lot of farmers to stay as profitable as they need to be to keep farming. We also face some new challenges in adoption of new cropping technologies and conservation practices.
"The auxin tolerant cropping systems, that were created to help combat herbicide-resistant weeds, have created some issues we are having to learn to work with and manage effectively. These products are useful tools for producers, but ways to use them without harming crops that are not tolerant to auxin chemistries are still being identified," he added. "Like any new technology, there will be growing pains, but hopefully we will learn to adopt the best practices needed to control these technologies so that they work for us and not against us. As I mentioned, the declining alluvial aquifer in the MS Delta, has driven us to adopt new practices that will help conserve water through reduced water use in irrigation. The new practices are research based and do work to reduce overall water usage, retain yield, and ultimately save producers money by lowering diesel/electric pumping costs."
 When he is not visiting farms and researching the best farming practices, Wilson enjoys hunting and fishing and spending time with his Catherine, and their son, Rowen.