By Mark H. Stowers
Farmers can always use another "helping hand" but sometimes those hands are hard to find. And it takes valuable time to find and train workers for today's high-tech equipment that work each side of the turnrow. Helping farmers work smarter has been a life-long journey since Tim Luster created Delta Precision Systems. Luster, a Mississippi State Ag Econ alumnus began his farm career working for his dad, T.M. Luster. But an opportunity offered by his father in law to join the implement side of things after a decade in the field was his next step.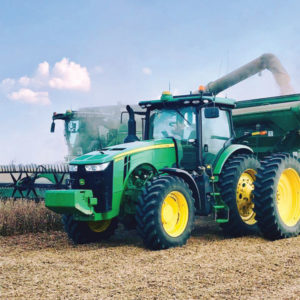 "In 1985 I went to work for my father-in-law W.M. "Sugar" Durham at MidSouth Farm Supply and Mobile Farm Supply in Clarksdale," he said.
From there, farmers asked questions of how to do farm jobs with more precision. That's when the seeds for Delta Precision Systems was planted.
"In 2002 Kenneth Hood, a good friend I had come to know while I was farming and also a good customer of ours at the store approached me about helping one of the companies he owned, In Time," Luster said. "They needed help in figuring out how to put some variable rate injection systems on a sprayer to do prescription work from satellite imagery."
Luster dug in and came up with a solution that did exactly what Hood was looking for and the State grad, husband, farmer and farm supply store manager was paving a new career.
"By the time I got through helping Kenneth on this project I was hooked on 'precision ag'.  The next year I started Delta Precision Systems to sell, install and service InTimes's customers. We retrofitted sprayers and tractors with Raven and Teejet equipment to do VRT applications since neither John Deere nor Case offered this at that time."
He continued working for his father in law but found DPS was growing and he brought on Jeffery Gaston who now serves as the Chief Operating Officer. They were soon not only working in the Delta but installing and selling systems from Georgia to California. The business expansion brought on the need for more help and Taylor Fleming came on board and now serves as the Chief Executive Officer for DPS.
"My father and father-in-law both said that the key to any business's success is to hire people that share your same values and enthusiasm for the work they are doing," Luster said. "I can't emphasize enough the rolls that Taylor and Jeffery have played in our success. It wasn't without some pushing and shoving on their part that we got so heavily involved with the planter side of the business."
He had the blessing of his father in law but the new business came with a few foundational rules.
"I am still managing MIDSOUTH and Mobile Farm Supply. My father-in-law told me I could start a service company but that I wasn't leaving the farm supply stores to do it. I started DPS but without good people that weren't passionate about our products and service, that weren't professionals with the willingness to go the extra mile our success wouldn't be possible. The other team members Lent Thomas, Luke Gable and Blake Edwards that have come on board over the last couple of years share these same values. I believe our customers recognize these characteristics in our company that make us who we are because all we do is precision ag. We pride ourselves in looking for and finding unique solutions for farmers using the latest in precision technology."
One of those unique solutions is being offered by SmartAG. This system has been designed initially for John Deere equipment and has been running in beta programs with tractors and combines. Autonomous tractors have come to the field. Luster found out about the company when some friends who retired began working there. He was asked to be a dealer and do some field beta testing and he agreed to try the AutoCart.
"We put it on Bowen and Mattson Flowers farm. Some equipment goes on the combine and the majority of the parts go on the tractor. Basically, it takes the driver off of the grain cart," he said.
The combine driver controls the grain cart which rides alongside the combine and takes the grain back to the trucks. The tractor's route can be pre-programmed to the field to avoid water furrow runs, wells and other rough parts of the field itself.
"It matches the speed of the combine, the driver of the combine can speed up or slow down the cart and even distribute where he's putting the grain in the cart," he said. "then he hits a button and it sends the cart back to where it started. It has radar/sonar on the front along with a camera so it recognizes animals, people, soccer balls, and things like this. They've done a lot of testing to make it as safe as they can. None of us can believe it has taken this long for autonomous vehicles to come to ag."
Luster is quick to explain the technology is not being created to take away jobs but to help farmers spread out their workers and keep them working on more important tasks.
"Nobody ever has enough labor during the harvest season to get everything done on the farm that needs to be done in the fall. This helps by taking a driver off that and putting them on something that's more important," he said. "It's very simple to operate Usually, your combine driver is one of your best operators."
Luster sees the future of SmartAg coming to tilling next.
"I can see a guy sitting in his pickup with an iPad with somebody there to help him and they're watching three tractors sub-soiling in a field," he said. "It's such a narrow swath and takes so long to do a field."
The iPad software shows the tractor's vitals such as diesel level, oil pressure and such as well.  Once harvest is over, Luster is planning on having a Field Day to let farmers, educators and others see what it's all about.
From the turnrow to the invention floor and back to the turnrow to help farmers all around the world – Tim Luster of Delta Precision Systems, Inc.