By Erin Williams • Photography by Austin Britt
Throughout history, the Mississippi Delta has always been synonymous with one word: cotton. With snow-white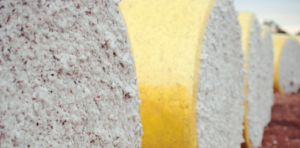 cotton fields stretching as far as the eye could see, there was no doubt about it, cotton was king. In 1975, it wasn't uncommon to see a cotton gin every four or five miles; now, that same area might only find a gin every sixty miles.
For numerous decades, the bulk of cotton in Mississippi was grown in the Delta areas along the Mississippi River due to the advantages of having shallow wells available for irrigation. A shift slowly took place when- due to low price per pound, high overhead costs, and fluctuating imports to other countries- cotton production saw a decline. Now some might wonder if cotton has been dethroned. However, if you asked local gins around the area, they'd beg to differ.
"If you just looked at the few gins now compared to fifty years ago, you'd have a more grim outlook on cotton than what is really accurate," says Haywood Wilson, general manager of Cowart Gin. "While there are less farmers growing cotton than fifty years ago, it's not dead- not by a longshot. At that time there were more gins that did smaller yearly amounts. Now, it's consolidated some as operators realized that more volume is needed to pay the bills so gins had to spread out."
Although cotton production has ebbed and flowed throughout the years wheeling through cycles of high and low prices, some young people choosing not to return to the family farm to continue the operation, and advancements in technology and crop management, growers are currently bullish on cotton and believe the future of the crop is stable.
"Up until last year, we saw cotton acreage shrinking up as corn prices increased; now that has changed and cotton prices are up," says Murry McClintok, president of Tunica Gin. "Even though we've always had a base of farmers grow cotton since the gin began over forty years ago, we've seen those farmers increase their acreage and that's encouraging."
Because of this belief and some farmers choosing to convert other existing commodity acreage to cotton and increase their growing yields, main cotton gainers around the area are gearing up for a good 2018 ginning season.
Aaron Litwiller, manager of the state-of-the-art Bogue Chitto Gin in East Mississippi, echoed this sentiment. "Cotton is very sustainable and very consumer-friendly and I think it will continue to have its fair market share for years to come," says Litwiller. "More and more people are finding out about synthetics and petroleum being found in the ground water from people washing synthetic fibers over time. The more information gets out, the better cotton will continue to do. There's a reason cotton has remained a top commodity in the South and we continue to remain bullish on that."
With prime cotton season upon us, gins are preparing to work at full speed from October until January. While the nuts and bolts of cotton gins today are the same as they were when operating some fiftyplus years ago, technology and automated machinery has changed the amount of hand-labor needed. Current technology has allowed for sharp increases year after year in total output of cotton baled per season. Now, according to many area gins, they will have a farmer that's been growing cotton for thirty to forty years bring a module in and walk out amazed at the amount of cotton they will get back versus years ago.
"So much has changed from decades ago," says Litwiller. "Now, we don't really touch the cotton from the time it comes to the gin until it comes out of the other end. It's very minimal compared to how it used to be. I believe technology will continue to change and get better year after year in increasing the amount of cotton we are able to get back for our farmers."
Although automation of gin equipment has increased efficiency, sometimes those upgrades can be unaffordable for gin operators. For example, the costs associated with upgrading and doing major renovations to the infrastructure of existing gins can be just as expensive as building a new gin. Automation aside, hand labor is still key to running a gin and, for many area gins, finding the right amount of labor needed is a big challenge.
"Cotton is primarily a two-and-a-half to three-month season for us at the gin," said Wilson, who's been involved with the cotton industry and ginning since 1975. "It's twelve-hour days, six or seven days of the week; only for a couple of months out of the year. It's hard to find skilled laborers that are free or willing to work those long, hard days for just a season. Finding labor is one of the biggest challenges for gins year after year. I don't know any that would say otherwise."
Like other area gins, Cowart Gin saw a record year last year with double the bales of cotton produced than the year before. This is in part to the price of grain falling and the price of cotton increasing, as well as cotton appearing less risky than the current trading uncertainty of soybeans.
"In about 2007 we were doing pretty good and in the 20,000 bales per year range but then the market fell out because cotton couldn't compete with the returns from other commodities like grain and corn," says Wilson. "However, a couple of years ago, we started to see the prices of cotton rise and other commodities fall so now there are more farmers back to producing cotton. When farmer's numbers go up and they make more money, we make more money. It's a domino effect."
Litwiller echoes this when he says that ten to fifteen percent of the bales produced by the Bogue Chitto Gin in the last couple of years have been from new producers or those who used to raise cotton, got out of it for a little while, and now are back. This year alone, they are expecting to bale around 125,000 bales.
"We've seen a lot of producers around the state up their cotton acreage and that's encouraging for any gin," says Litwiller. "However, your highest highs are always fielded by your lowest lows."
Just like for farmers, sometimes the amount of cotton baled at gins is totally out of operator's control. In farming, even with current good cotton commodity prices, unpredictability is always a part of the game.
"It's always something, whether that's too much rain one year and too little rain the next year or a new pest to worry about," says Wilson. "But cotton farmers are resilient. To be able to grow cotton is an art and, just like these gins, it's a part our heritage here. Cotton isn't just an industry, it's a community."
Contributing to that community, cotton generates an economic impact that isn't easily replaced by other commodities.
"Cotton provides a lot of jobs and resources for the local economy," says McClintok. "Corn is typically loaded up and shipped off somewhere else but cotton benefits the farmers who grow it, the warehouses where it is houses, and the gins. It creates local jobs and that's a big asset."
While the remaining cotton gins may look and operate a little differently today than the days when they were so prevalent in the Delta, the goal of these gins to produce a good, quality product that brings cotton farmers top dollar has remained the same year after year. If these gainers have anything to say about, that's one thing that will always stay the same.