By Mark H. Stowers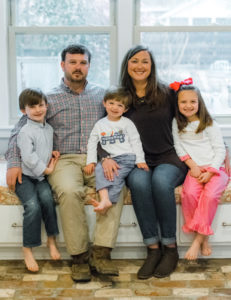 Over a decade ago, John Seely got into farming when his grandmother leased him 330 acres to work. He planted wheat and sat back and waited for it grow. He had some ups and downs but learned enough that he now manages over 4,000 acres just outside of Clarksdale in Lyon. John and his wife, Caysi, have three children—Anna-Tully (7), Baker (5) and Windham (2). The youngest seems to be the most excited about the farm life though each one enjoys hanging out with daddy on the turnrows.
"Baker likes going out but really my two-year-old wants to go with me everywhere in the pickup. He loves being on the tractor or cotton picker. He's interested in anything with wheels," he said.
Caysi teaches kindergarten but cooks for the team and does the bookwork for the farm. When Seely got into farming over a decade ago, it wasn't from the side of the family with an established farm.
"My father didn't farm nor did my mother but my grandfather farmed and I guess that put the bug in me. He retired in 2006," Seely said. "He had an operation with his brother and two nephews but I wasn't part of that farm. On the other side of the family my grandmother had some land and I grew it little by little."
Today, Seely grows cotton, soybeans and little bit of corn and "is ready to get started" this year.
"I'm ready for the sun to come out and warm things up and put this winter weather behind us," he said. To learn the ins and outs of his chosen profession, Seely first went to Mississippi State to garner knowledge he'd need on the turnrow.
"I kind of got home sick and came home and went to Moorhead (MDCC) for two years and then I started faming," he said.
Just so he could make a living until he got settled as a farmer, Seely worked as a crop insurance adjuster to insure he'd have time to learn the farming business.
"Basically, I didn't make any money farming the first two or three years and once I got enough land to survive on, I quit that and focused fully on the farm."
Little by little, Seely has purchased land and also leases land to farm.
"I bought 60 acres two years ago and I just bought 200 more about a month ago. Land costs are so high so I'm gradually adding. That's my long-term plan, to buy more land over time," he said.
In addition to his next generation farm hands, Seely has six full time employees that he has on salary, so he doesn't have to worry as much about the farm and can relax with his family a bit more.
"It's a different labor model than everybody else. They are all on salary and have health insurance and have retirement plans," he said. "That's the best way to keep good help is give them a living wage. I couldn't farm anything if I didn't have them." Looking back on his early farming career, Seely understands that sometimes things just work out despite your circumstances.
"I started out on my own and I didn't have any help from anyone. People say it can't be done but it can. It's tough to get your foot in the door. Nobody will give you credit lines," he said.
That is until he found a banker who would take a chance on his dream and his work ethic.
"I couldn't do anything without him. First National Bank—Marty Jones—in Clarksdale. When I first got started farming, my grandmother leased me her acres and let me farm. I was supposed to be going to college and farming at the same time but I quit college and planted the wheat," he said. "I went to the FSA and got a beginning farmer loan and rented equipment from my neighbor just to get it planted."
By springtime he needed another draw to fertilize the wheat and bring everything to fruition.
"The lady wanted to do a crop inspection and we drove out there but when we arrived the geese had eaten it up. It looked like bare ground and like nothing had been planted. She said, 'I can't give you another draw to fertilize. It looks like there's no wheat out there.' But I was trying to explain to her what happened. She never gave me the money to fertilize my wheat. I wrote it off as 'that's my farming career, then' and went back to crop insurance."
But then he learned what most farmers rely on daily—the miracles from God through nature.
"The wheat came out in the spring and started growing without any fertilizer. I got my neighbor to harvest it for me and I ended up getting about 45 bushels to the acre—that was pretty much unheard of and I ended up making like $13,000. That got me excited and I thought farming was easy, but it's not."
But it was also those days where he had been "planting" while working as a crop insurance adjuster and he would ask if farmers had any land for sale. One said a neighbor did.
"I ended up renting that and it grew from there," he said. "I didn't start farming cotton until 2014. I had the worst land— mostly stuff farmers didn't want but I ended up getting better land and I put cotton on it. I got some really good yields on it and cotton has worked out pretty well for me."
Seely has about 2,500 acres of cotton and another 1,500 in soybeans and "a little bit of corn."
Working hard each day, Seely continues to see the fruits of his labor and he continues to build and grow and lean on others along the way to be a successful Delta farmer. And it all started with a grandmother's land, some non-fertilized wheat and ingenuity he learned along the way.