By Mark H. Stowers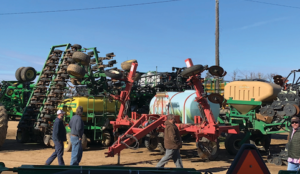 Farmers spend a lifetime building their farms with land and equipment. Every year they work to continually improve each. When it comes time to call it a day, some have the luxury of passing down to the next generation, but others have come to the end of the turnrow.
Renting out land is easy, but what becomes of the millions of dollars of equipment that has been amassed? That's when Dewitt Auction Company steps in to give farmers a helping hand. The Sikeston, Missouri company has been helping Delta farmers and families for decades.
Phil Dewitt has been handling sales in Mississippi for "years, years, years" and enjoys the people he meets and helps. However, he didn't start out on the auction side of things.
"I used to go to sales and buy equipment and try to resell it. But then I got into the auction aspect," Dewitt says. "My older brother, Jeff, actually started the company."
The company began in the early 1980s and the Dewitts credit their success to the Magnolia State. Most of their work comes from farmers who are retiring and the auction gives both young and old farmers a chance to get newer equipment and helps the retiring farmer unload his treasure trove of farm implements.
The auction season begins in December as farmers are starting to wind down harvest and are looking to add equipment or pare down. Dewitt's hosts three to four sales a week from December to March. To begin the process, Dewitt first appraises the farmer's equipment to give him an idea of what a sale could bring.
"Equipment pricing has been good the past few years. The cost of new equipment has been high and has held the floor on used," he says.
Auctions are held either at a main location for several farmers or on a farmer's property.
"With a farm sale, we line the equipment up in the order we think it needs to be sold and then drive the speaker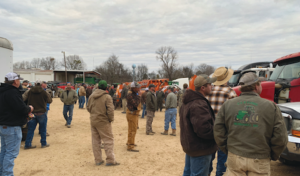 truck along the front of it and sell it piece by piece," he explains. "We've been in business long enough to know what we think needs to sell first. It is somewhat of an art of how you line up a sale. Somewhere between 11:00 a.m. and 2:00 p.m. you try to sell the high dollar items."
Dewitt used to be the voice of the auction, but has handed that work off to other employees. He doesn't see much antique equipment as it gets sold on other sites to collectors and enthusiasts.
"The business has been good to me and I have a lot of great friends in Mississippi who help me," he says. "We have a sale in Webb every year and that's one of the largest sales from here to the Gulf. It draws more than 700 folks. We have had 1,000 people there. At times we ran two speaker trucks."
The auction company will help buyers figure out how to get their new farming treasures back home at the end of the day. An on-the-farm sale may attract around 250 interested bidders, according to Dewitt. His early years were spent on a 140-acre farm where he learned how to coax growth out of row crops and some livestock. When he first got into the farm equipment sales business, a good sale was anywhere near $250,000.
"Now some of these sales go from $6 million to $9 million dollars. Most of the on-site sales go from $700,000 to $800,000 to $2 million dollars. You try to help your buyers," he says. "There's a lot of competition in Mississippi. You've got to earn a man's trust. If a man doesn't trust you, you can talk to him for half a day and you aren't going to get anywhere."